Croatia
Europe's 'it' Destination
Croatia is a European oasis of cultural and natural diversity. On a relatively small area, you can find many different cultures, mentalities, dialects, climates, lifestyles, cuisines, cultural and historical heritage based on which Croatia has been dubbed "A Land of a Thousand Islands" or "The Mediterranean as it Once was". Immerse yourself into the crystal clear Croatian Adriatic.
Top things to do in Croatia
The Sea Organ is situated near the new cruiser port, within the Zadar waterfront. This is a place where human ideas and skills are joined with the energy of the sea, waves, high and low tide, a place of relax, thinking and conversation accompanied by the continual concert of the mystical tones of the "Orchestra of Nature".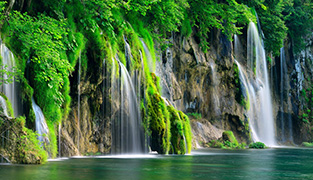 This national park is a geological and natural phenomenon. More than ten lakes come together and form spectacular waterfalls in a unique natural space where the shades of blue and green change from minute to minute, home to amazing wildlife. Visitors can tour the park with a guide, along the educational paths, by boat, train or bike.
Trakoscan was built in the late 13th century in northwestern Croatian defense system as a small observation fortress for monitoring the road from Ptuj to Bednja Valley.
According to legend, Trakoscan was named after the Thracian fortress (ARX Thacorum) which allegedly existed in antiquity. Another preserved legend says, it is named after the knights Drachenstein who in the early Middle Ages, ruled the region.
Beach with changing shape
Zlatni rat penetrates the sea almost vertically and changes its shape, location and length depending on the influence of the wind and sea currents.
Zlatni rat beach is much more than a postcard motif; it is the most famous windsurfing beach in Croatia, ideal for fun and socialising during the entire day. You can either have an active holiday or relax on the beach, the latter being especially popular among younger people.
Population: 4.447 million
Area: 56 594 km²
Density: 83 ppl/km²
Capital: Zagreb
Currency: Kuna (1kn = 100 lipa)
Coastline: 5835 km
Number of islands: 1185
Climate interior: Continental climate (-2 to 0°C in January, 20°C in August)
Climate mountain area: The highest peaks (lower than 2°C in January, around 12°C in August)
Climate coast: Mediterranean climate (5 to 9°C in January, 22 to 25°C in August)